Geology Adventures "Crystal Kid" Dig
May 14, 2005 - Me and Michael
1 Mile rt - 500 ft elevation gain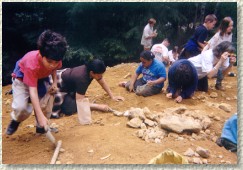 Collect abundant quartz crystals, pyrite, peacock ore, and 8 other minerals at our old silver mining property overlooking the Snoqualmie valley. Kids learn to identify minerals as they dig for treasures on this exciting day-trip near North Bend. This is our most popular family trip. Kids can fill their backpacks with pretty rocks!