Dirty Harry's Balcony, North Bend, WA
August 31, 2008 - Me
4 Miles rt - 1,300 ft elevation gain - Maximum elevation 2,550 ft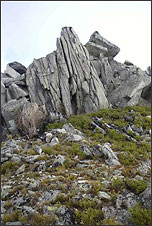 If you've ever had the feeling you were being watched as you drove west on Interstate 90 near North Bend, you might be right. Hikers could be looking down on you from Dirty Harry's Balcony.

Most motorists and hikers don't know about Dirty Harry or the old roads and trails he left behind after a career of logging everything he could get his hands on.

Apparently Harry, who lived in North Bend, had a reputation for taking trees most other loggers would disdain and, like an existential anti-hero fighting personal demons, he put in roads where others feared to tread.

Not much remains from Dirty Harry's heyday but healing clearcuts, rumors of old rusting trucks, and a road and trail named for him.

It is easy for the imagination to feed on such a character, but one can't help but wonder what he was thinking when he created the trail for which he is named.

Dirty Harry's Balcony is a hike that is enjoyable in any type of weather. Unlike most hikes, Dirty Harry's is enhanced by rain and fog.

Rain and mist are main ingredients of this alpine haunt that fuels the soul and gives the urge to wander. With wisps of fog billowing between the castles and towers of this ridge, the mad scribble of I-90 below becomes poetic and the mass of McClellan Butte looks even more imposing.

If you want views, there are plenty. On a clear day you'll see Bandera and Rattlesnake mountains and Mount Washington, and to the west the lower Snoqualmie River valley.

This hike doesn't appear in many guidebooks. If not for Harvey Manning, we might not know of it at all. Not only has he done a great job of describing Harry and his antics in the out-of-print "Footsore 2," but he keeps the legend alive in the more recently published "Hiking the Mountains to Sound Greenway".

His description of the hike makes you want to track down the fading ghost of Dirty Harry, who left a madman's snarl of roads as legacy. Today the roads are fading, filling back in with alder and shrubs -- and there's no trace of Harry at the unsigned trailhead.

The trail starts at an elevation of 1,300 feet and gains enough to qualify as exercise. Another 1,300 feet or so will get you to the balcony. On a rainy day in April, there are many rewards along this introspective trail: the white water of rushing streams, trilliums and violets scattered along the path and -- best of all -- the lonesomeness.

Later in summer the balcony becomes a rock garden with colorful displays of penstemon and beargrass. It's an easy hike, but a map and route-finding skills are helpful. If the balcony merely whets your appetite, there are other options such as an unsigned path that goes up Mount Defiance. Experienced hikers with navagational skills can hike to Dirty Harry's Peak.


Getting there Take I-90 to Exit 38, turn right and follow the road (old U.S. 10) as it goes under the freeway toward the State Fire Training Center. Cross the South Fork Snoqualmie River and drive through a yellow gate (about .2 mile from the underpass), which is locked by 4 p.m. At a bend in the road, look for an old track overgrown with alders (Dirty Harry's Road) heading uphill on your right. If the gate is closed, you can walk the road. There is no official trailhead or parking area, but there is parking beside the road.

Trail detail The trail (Dirty Harry's Logging Road) starts at 1,300 feet. The roadbed is rocky and is lined with alders and shrubs as it climbs steadily toward the balcony. At about a half-mile, the old road crosses a stream on a deteriorating wooden bridge. The road continues to climb for about a mile before reaching an unsigned junction at 2,500 feet. The trail to the west (left) heads toward Dirty Harry's Peak and beyond. Turn right (east) if you are going to Dirty Harry's Balcony.

From this junction the nature of the forest changes, becoming dark and moody. At about a half-mile, come to a well-defined but unsigned junction. Harry has left a couple of pieces of rusting machinery to mark the trailhead (avoid a flagged route through dense trees a short distance before reaching the junction). Turn right and walk a short distance through forest and shrubbery to the "balcony" at 2,550 feet. From the high point, there is a view of a waterfall early in the season as well as I-90 below and peaks everywhere. From the junction, a climber's trail (straight ahead) continues to Forest Service Road 9030, an access road for other hikes in the area, including Mason Lake.

If you are hiking to Dirty Harry's Peak turn left at the 2,500-foot junction and hike to a viewpoint at 2,800 feet. When the snow is gone, cross a creek at 3,000 feet and stay on the main road until you reach the summit. Many cat tracks head off in different directions once you have crossed the creek (take a map). From the summit see North Bend, the Issaquah Alps, Mount Baker and Mount Rainier, in addition to many of the Snoqualmie Pass peaks.

Trail data Round trip to Dirty Harry's Balcony is four miles with approximately 1,300 feet elevation gain. Dirty Harry's Peak is 11 miles round trip with an elevation gain of 3,400 feet. For more information on Dirty Harry and his stomping grounds, refer to "Hiking the Mountains to Sound Greenway" by Harvey Manning (The Mountaineers, 221 pages, $12.95). The map is USGS Bandera.