Coal Creek Falls/Cave Hole Trail/Wildside Loop, Cougar Mtr.
May 20, 2006 - Me and Michael
4 Miles rt - 400 ft elevation gain - maximum elevation 1,040 ft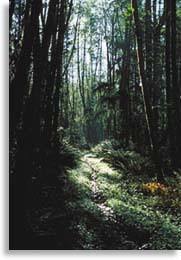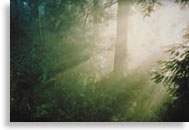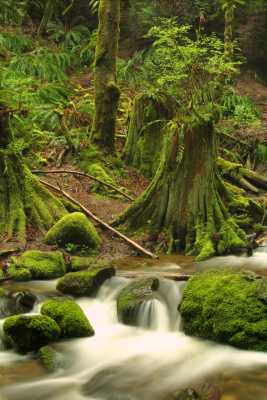 This is a great hike for history buffs, because it winds through the remains of the old coal mines that put Newcastle on the map. It's also great because it's a very short drive from quickly-sprawling "Pugetopolis". From the trailhead, follow the Red Town Trail W-2 uphill to an unsigned junction with C-3, the Cave Hole Trail. Ignore small spurs and less than 0.5 miles, go right onto the Coal Creek Falls Trail, C-4. It winds up and down, past fern-filled ravines and bowls. It is one of the less-hiked trails in the Park, so you can be pretty lonesome if not lost - the trails here are all named, and some have no signs.

The forest here is surprisingly thick, even though it has been logged twice before. Thankfully, it will never be again. There are great alders, maples, and different varieties of pines as you round a small dale, and come into the Coal Creek Valley. The trail winds downwards, still in the shady woods, to a narrow bridge over Coal Creek. You can see the falls to the left of the bridge, but the best view can be had if you go up along the creek for a few yards. From the bridge, the way switchbacks up 3 times over a small ridge. At the top of the switchbacks, come to a junction with the Quarry Trail, C-6, and start to switchback down. Ahead is a screened view out to Long View and Anti-Aircraft Peaks. Look for a "cave hole" on your right. It was formed when one of the old coal mines collapsed, and formed a hole in the hill-side. Look for bits of wood or nails here. Some pieces of coal can be found alongside the trail, too. In about 1/4 mile, come to a meadow, full of small flowers if you come in mid-spring. Go left onto the wide, smooth Wildside Trail, W-1. There's a neat side-trip to an exhibit showing a blocked up mine, rusty pipes and tools used in it, as well as an old mine-cart full of coal. A bit past here, on puncheon across a very wet marsh, are the remains of the steam-hoist that was used to pull the mine-carts out of thier shafts. Back at the exhibit, the way goes a few yards back to the trailhead. Driving Directions: Take I-90E to I-405, exit 10. South on Coal Creek Parkway for a couple miles, then left on SE 72nd. Turn left at stop-sign onto SE Newcastle Coal Creek Road, and after a couple miles you'll see the "Cougar Mountain Regional Wildland Park" sign on your right.