Tiger Mountain-Tradition Lake Loop, Swamp Monster Trail, & Bus Trail
September 24, 2005 - Me & Michael
4 Miles rt - 500 ft elevation gain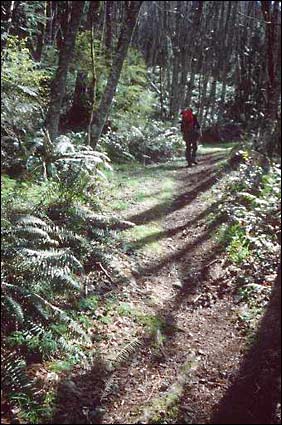 Lake Tradition Trail on Tiger Mountain

This pleasant loop on Tiger Mountainís Tradition Lake Plateau offers fairly level, scenic trails with occasional rolling hills and one semi-long climb. It has all the usual roots and rocks that a trail runner encounters, providing a good introduction and good practice for the beginning trail runner. Itís close in to Seattle and Bellevue, and there is plenty of parking.


Swamp Trail on Tiger Mountain

Level of difficulty: Gentle-to-moderate dirt/gravel trail (muddy in spots after rains) with boardwalks.

Length: Over a half-mile loop.

Setting: This endearing child-oriented path (ages 4-8 years) is one of many trails that starts at the High Point trailhead on Tiger Mountain. Kiosks near the parking lot introduce the visitor to the region's intriguing human history, as well as the wide range of animals that live within this 4,400-acre conservation area. To access the Swamp Trail, take the dirt power-line road that leads down from the parking lot; the marked trailhead is ahead on the right, through the white gate.

Highlights: The beginning of this forested swampland trail is lushly fringed by sword fern and salal. Once you reach the trail's lower parts, long boardwalks sweep over muddy ground that sprouts wetland plants such as skunk cabbage. The trail eventually emerges onto a second access road that soon joins the main pipeline road (when you emerge from the forest, take two lefts to return to the parking lot).

Charming storyboards along the trail tell the adventures of Zoe, a young raccoon who encounters helpful animals while watching out for the Evil Swamp Monster that is rumored to live in the forest.

Facilities: Vault toilets.

Restrictions: Leash law; no bikes. Know what to do if you encounter a bear or cougar.


Bus Trail

Length: .8 mile loop

The Bus Trail links to the Around the Lake Trail to make an accessible trail loop from the High Point Trailhead. The Bus Trail is named for an old derelict Greyhound bus - no one knows for sure how this bus ended up in the forest.


Directions: From Interstate 90 east of Issaquah, take Exit 20. Turn right at the end of the exit ramp, and immediately right again onto the access road. If heading west on I-90, at the end of the exit ramp turn left, cross I-90, and turn right on the access road. Drive past the overflow parking area through the gate, and head up the potholed dirt road to the trailhead parking lot.